Copyright. BBC Sport…….
Real Madrid forward Cristiano Ronaldo has won the prestigious Ballon d'Or award for a fourth time.
Ronaldo, 31, helped Real Madrid win last season's Champions League and scored three goals as Portugal won Euro 2016.
It adds to the titles he won in 2008, 2013 and 2014.
"I never thought in my mind that I would win the Golden Ball four times. I am pleased. I feel so proud and happy," said Ronaldo.
"I have the opportunity to thank all of my team-mates, the national team, Real Madrid, all of the people and players who helped me to win this individual award."



Ronaldo is now one behind Barcelona forward Lionel Messi, who received the honour in 2009, 2010, 2011, 2012 and 2015.
The former Manchester United forward has scored 19 goals in 20 games for club and country this term, to add to the 54 he got last season.
| Ballon d'Or winners | |
| --- | --- |
| 2016: Cristiano Ronaldo | 2009: Lionel Messi |
| 2015: Lionel Messi | 2008: Cristiano Ronaldo |
| 2014: Cristiano Ronaldo | 2007: Kaka |
| 2013: Cristiano Ronaldo | 2006: Fabio Cannavaro |
| 2012: Lionel Messi | 2005: Ronaldinho |
| 2011: Lionel Messi | 2004: Andriy Shevchenko |
| 2010: Lionel Messi | 2003: Pavel Nedved |
Ronaldo's Real Madrid team-mate Gareth Bale finished sixth in the vote, while Leicester City striker Jamie Vardy – the only Englishman included on the 30-player shortlist – was eighth.
The Ballon d'Or is voted for by 173 journalists from around the world.



It has been awarded by France Football every year since 1956, but for the past six years it became the Fifa Ballon d'Or in association with world football's governing body and was awarded to the world's best player.
However, Fifa ended its association with the award in September.
Fifa will hand out its own prize for the world's best men's player, along with the best women's player and team of the year, at the Best Fifa Football Awards ceremony in Zurich on 9 January.
Ronaldo's 2016 in numbers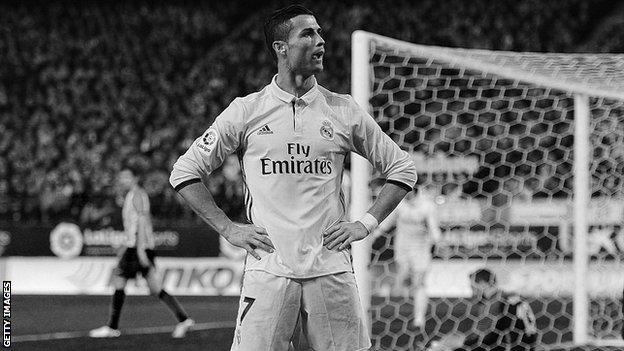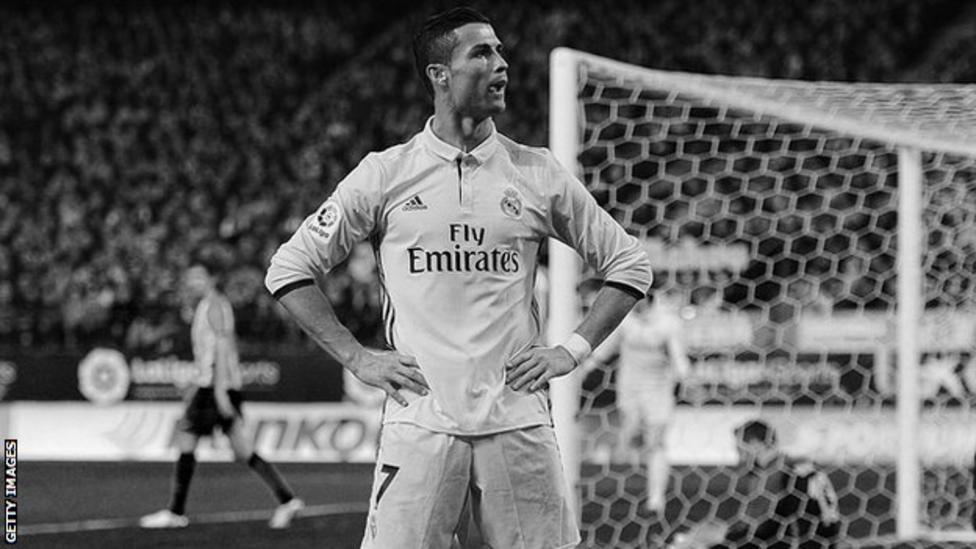 42 games, 38 goals, 14 assists
Third best minutes-per-goal rate – 83.68 – of anyone scoring a minimum of 10 goals across Europe's top five leagues during 2016, behind Luis Suarez (82.57) and Falcao (59.6)
Directly involved in 39 La Liga goals in 30 games – 31 scored and nine assists.